---
Outward simplicity hides a lot of complex algorithms for bets that changes in a variety of behaviors, depending on a variety of game situations. This approach makes the R-Matrix almost unpredictable. Really, no automatic protection system will not be able to detect R-Matrix. But the application is able to monitor specific combinational circuits in different bet fields of the table and make a prediction with the maximum accuracy...

Example of the game with R-Matrix 2.0. 888 Casino (Rng-table)

This video shows the game with R-Matrix 2.0 in Mode1.
Initial balance: $900, Initial Bet: $1 on the number ($18).
Final balance: $1206
---
---

Purchasing
R-Matrix 2.0
you get:
The idea of R-Matrix

Do you ever think of what brings together, for example, the fields of equal chances and a dozens, a dozens and a six-lines, six-lines and streets? Or how can you avoid the scary factor of "ZERO" when using a particular strategy? The answer is - the numbers. Roulette - it is primarily the numbers. Operating with bets on numbers we can combine many probabilistic and mathematical schemes that will ensure a very high chance of a successful spin. This idea formed the basis for the development of R-Matrix algorithm. The program is a hot fusion of mathematics, probability theory, statistics and chaos theory.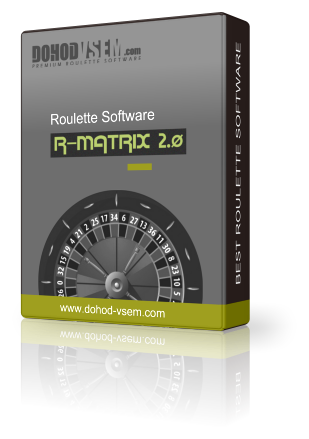 Though outwardly we see the classic version of the system with the bet on 18 numbers, inside it's a different program, because algorithm analysis and determination of bets has been completely redesigned. And now we can get predictions of high accuracy even in standard mode!

In addition, the program has additional Mode2, which does not use the equal distribution of the numbers in the prediction, so that we can see a long series of hits and misses, that is in certain situations may be useful for the player!
Of course, the main difference between version 2.0 is the introduction of a completely new, unparalleled, 3-phase betting system (Sequential mode)!

This approach to the game allows you to not only get a quick advantage with minimal risk, but also to play at live tables, without worrying about the time for making the bet.

It is important to note that in Sequential mode there is a separate settings panel!
As a developer, I can say that it is truly one of the most powerful systems known in our time! In addition to great precision of predictions, the program uses a unique betting system, which shows incredible results on the tests!

In the video below you can see the continuation of the session in the 888 casino , where I easily double the balance with Sequential mode.

Initial balance: $1206, Initial bet: $5 (on the number).
Final balance: $2441
I can definitely say that with the release of version 2.0 R-Matrix again comes forward among all programs. And this software package can be called one of the best deals that can be found among the programs for roulette!

R-Matrix 2.0 - is the latest word in the game on the numbers!
THE MAIN INNOVATION

💻 Stable increase of your bankroll
💻 3 powerful analysis algorithms
💻 KILLING 3-phase betting system
💻 Modeling your own betting systems
💻 User-friendly application design
💻 Works on LIVE and RNG tables